Erzsébet Rusznyak was born in Budapest on 26 December 1902, the daughter of
Pál Ranschburg
, a well-known neurologist, psychologist and pioneer of experimental educational methods in Hungary.
She was married to Endre Rusznyák who was an engineer.
She took refuge in
Katalin
with her two children, a daughter born in 1931 and a son, Andreas, born in 1936. She attended Dialogue N° 85 on 3 November 1944. She left the war factory after the
Arrow Crosses
attempted raid on 5 November 1944 (on this subject, read the
testimony of Andreas Rusznyak
). She and her family escaped deportation.
After the war and until 1957, she worked as a graphic designer with
Gitta Mallasz
,
Agnes Péter
and Adrienne Frankovszky in the latter's
workshop
which Gitta had taken over in 1945.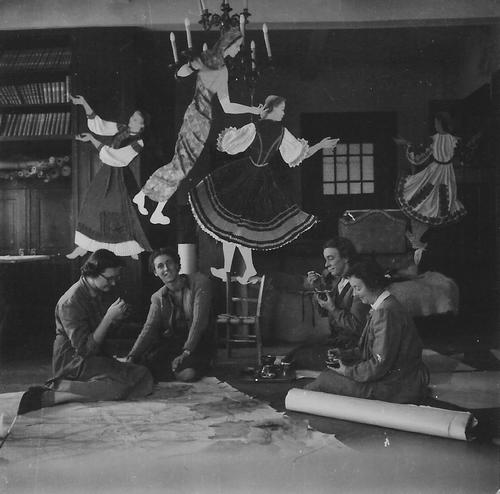 Gitta Mallasz's workshop at 4 Batthyány Street in 1950
From right to left: Erzsébet Rusznyak, Gitta Mallasz, Agnčs Péter
The fourth woman on the left has not been identified.
(Photo : Andreas Rusznyak)