Lili, the one who helps



Listen carefully, my servant!

You are 'the one who helps'.

The key to all your acts, to all your teaching,

is the smile. Try it! Smile!

(TA, p. 253)



Who hasn't been moved by Lili's Dialogues? Throughout their encounters, the angel gently guides his "beloved", his "little servant", so that she may best complete her "task".
That does not mean that Lili was a weak woman people would pity. She was a beautiful woman with an athletic stature.

According to Pierre Székely (1),

"she had strong handsome features and was athletic and very energetic".

He added:

"When she was asking questions, she would appear submissive as a child, but apart from these moments, she knew what she was doing. Above all, she wanted to find clarity to affirm her work as a therapist."


Lili Strausz
(Courtesy of B. Montaud)

A pioneering spirit



For Lili's "task" was far from easy in Hungary during the Second World War. She taught personal development through body-centered therapy, and her approach was holistic. She was aiming to teach her students to find unity of body and mind. She was definitely ahead of her time. There was little talk of relaxation or yoga back then.

Only a few countries were open to these methods. Germany and Switzerland were among them. We know that Lili followed a training course around 1936 with Elfriede Hengstenberg (1891-1992), a German disciple of

Elsa Gindler

who had conceived a method of personal development through movement. But it was in Switzerland that Lili got her training and inspiration.

There were two great masters in this field:

Emile Jaques-Dalcroze

, founder of the Dalcroze Method, and

Rudolf Laban

. Laban, an Austro-Hungarian, also taught in Budapest and gave regular summer courses in the Swiss mountains. Lili may have trained with him.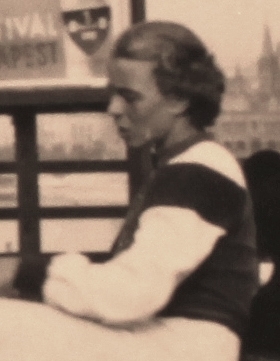 Lili was an extraordinary therapist. Vera Székely (2) said:

"She taught you to find the undiscovered potential hidden in your body, to exercise your every muscle and bone. She manipulated your legs, your back, your neck. Often this triggered deep emotional outbursts and Lili found herself in the de facto situation of a psychotherapist, which she handled brilliantly."

(SB, Ch. II/2).

Lili was born on 24 September 1906 in

Keszthely

, on the shores of Lake Balaton. She was the last of a large Jewish family living in very chaotic conditions. Her father died an alcoholic at the age of fifty and soon after her mother became unable to cope with her constantly bickering children. One of her brothers was a successful businessman: he owned two large cafés in Budapest, one of which was extremely fashionable and frequented by high society. The whole family lived in the building above the café. Lili found her never-ending family quarrels very upsetting and spent much of her time trying to reconcile her siblings.

Gitta Mallasz

was a champion swimmer and suffered from cramps. She met Lili in her professional capacity. The two women immediately became friends, strangely enough as one was very outgoing while the other was contemplative.

Gitta introduced Lili to

Hanna Dallos

. The three of them quickly realized they shared many concerns. They met increasingly often and very soon every week-end. A circle formed soon joined by

Joseph Kreutzer

.

Hanna, Gitta and Joseph felt a real need to live together and moved to

Budaliget

. Lili joined them as a matter of course. Although she kept working in the capital, she stayed in Budaliget at weekends and saw her friends regularly. She rented a very small sparsely furnished cabin but in a garden overflowing with flowers.

One day in June 1943, Gitta and Hanna told her about a strange event: a voice spoke to Gitta through Hanna. Lili immediately asked to be present at these encounters. This is how Gitta described Lili's first Dialogue on July 9, 1943:

« Lili would also like to ask some questions. (…) After a brief silence, we feel a presence of warmth and gentleness. (…) The intonation of the voice has changed completely: now it is tender. » (TA, p.31)

Indeed, Gitta's first contact with her inner master was harsh:

«

Enough with your shallow questions! It is time for you to assume responsability for yourself!

»

(TA, p.21)

On the contrary, Lili's first contact was easy and friendly:

«

I am here. You called me – I called you. »

(TA, p.31)


A difficult balance





Lili Strausz
(Courtesy of B. Montaud)


Throughout their talks, the angel showed the way to Lili, his 'exact likeness, only denser'. Lili had an extraordinary talent for relieving her patients' sufferings, but she did not have the inner strength to protect herself from them. On the contrary, she absorbed all their negativity, which at times made her extremely vulnerable.
Her path will be shown to her in a dream:
'I knew I was deadly ill and asked myself this question: what do I still want from life, what would I still like to accomplish? My only desire was to give, to give faith to my students, so that after my death this faith could continue to grow in them. In a flash I could also see what my activity, my vocation, was. I felt very good during this dream and even afterwards.' (Lili's notebook, 10 December 1943)



The angel taught her to protect herself, to avoid self-sacrifice. The angel "embodied love in a very different way to the self-sacrificing oversentimentality' usually shown by man.

Do not be soiled by this kind of 'good.'
The 'good' person, who says, ''I give.''
And see, what is given ? Death !


And the angel went on to say:

But you, my servant, you are not 'good' :
The GOOD will come

through

you.
(TA, p.190)



The Budaliget talks ended in the spring of 1944. The Germans invaded Hungary and very efficiently organised the deportation of the Jews. The four friends returned to the capital. At the beginning of June, Hanna's husband Joseph was deported.

Sometime later, Gitta was asked to take over the management of a sewing workshop whose workers were Jewish women in danger. She agreed on the condition that Hanna and Lili accompanied her. The workshop was located in

Katalin

, an empty former convent on the hills of Buda. When the three women arrived, they found complete chaos and had to restore order. Their task was to enable a hundred panic-stricken women to become effective workers making shirts for the Hungarian army. The responsibilities were divided up: Gitta managed the workforce with a very firm hand to ensure order while Hanna and Lili provided encouragement. Hanna took care of the smooth running of the workshop, Lilli focused on the children and adolescents.

Thanks to the 'commander's rigorousness' and Hanna and Lili's dedication, the factory was able to deliver the military shirts requested by the army. Was Katalin a factory like any other? Not quite. While Gitta was entrenched in her role as 'commander', Hanna made no secret of her spiritual concerns and Lili taught relaxation to the younger ones. In addition, there were the three women's mysterious meetings in the commander's "cabin" which no one dared approach. As one of the workers

Agnčs Péter

wrote, they saw the three women as

"human beings who were above the rest of them, both in their everyday actions and in something elusive."

(SB, Ch. V, 6)

The venture lasted five and a half months. At that time, Eichmann and his henchmen deported hundreds of thousands of Jews. But for Katalin the danger came from the Hungarian Nazis - the

Nyilas

- who had taken power. They unsuccessfully raided Katalin for the first time on 5 November 1944, then again on 2 December. Thanks to Gitta's incredible escape plan, most of the workers managed to flee. Hanna and Lili though surrendered to protect Gitta, whose life was in danger when the Nyilas discovered that most of the Jewish women had disappeared.


Inner resistance



Sixteen Jewish women from Katalin were deported in the last convoy leaving Budapest for the camps.

Eva Dános

, a young woman who was very fond of Lili, went with Hanna and Lili. We know what happened to them thanks to her testimony.

After a five-day journey, the three women arrived in Ravensbrück, where they stayed from December 1944 to February 1945 in atrocious living conditions. There were no more talks with angels: "survival requires all their strength". Hanna and Lili bravely faced the horrors of the camp, repeating like a mantra that they would return to Budapest and "pick cherries." Their lust for life and their determination to survive drove them. Not at any price though: Lili, despite being a sportswoman, managed to evade the privilege of becoming a Kapo (a prisoner functionary):

« because it entailed beating up one's fellow prisoners. »

. They remained unfailingly united, sharing everything. Above all, they kept their dignity. Eva recounted:

« Lili looked beautiful even in the camp: She somehow had managed to keep her red dotted scarf and would drape it around herself to look elegant like a lady. »

Lili could not cope with the filthy conditions in the camp, so, braving the camp guards, Eva regularly left the bunk they shared at night to moisten a washcloth they had found (DC, p.185).

« The very way Hanna and Lili acted in Ravensbrück was an inspiration. They always considered themselves transmitters of the light. »

according to Eva.

If fate had not intervened, they might have survived until the liberation of the camp at the end of April 1945. At the beginning of February, all three women were "selected" to go to work in a factory. On 15 February, they were forced into overloaded cattle cars, without food nor heating, dressed in nit-infested summer dresses. They travelled towards Burgau not far from Dachau, 700 km south of Ravensbrück. It was a camp supplying workers to Messerschmitt. The journey lasted two weeks under regular Allied bombardment. Hunger, cold and disease killed most of the women. Hanna lost her mind before she even got on the wagon that became their grave. On the morning of the thirteenth day, she was found with eyes wide open,

"her face marred with death spots"

. Lili was still alive, but she had typhus. Eva did everything she could to relieve her suffering, but to no avail. Lili was dying. Her body was ravaged by disease, her face hidden with the blond hair that she miraculously still had. At times, she called out for help. With a powerful cry, her final words were:

« Lord ! If I get out of here alive, I vow to serve humanity with all my life. » (PW, p.107)

.

She died that night. Lili had not been able to save herself, but perhaps she saved others through her talents and generosity. Pierre Székely testified:

"Lili Strausz was a wonderful woman who taught a form of spiritual gymnastics. It might also have saved my life, because she taught me how not to get tired, to partially rest while using different muscles. It was very useful during forced marches or gruelling circumstances".

Only Eva survived this accursed journey. Eva wrote in

Prison on Wheels

:

« Augsburg, March 4th.
Already her denuded remains are being taken off, and even if I wanted to, I wouldn't be able to recognize in them the sport-honed vitality of my friend. » (PW, p.111)

And she concluded, with a heavy heart:

« I shall never have with me the best of friends,the greatest human being, the most talented person, the purest soul I have ever met: Lili. » (PW, p.110)



Memorial for 235 concentration camp victims †1945 at the Westfriedhof (Western Cemetery) in Augsburg. One of the plaques bears the inscription:
Strauss Lilli 45 years old (3)



Françoise Maupin



(1)

Pierre Székely

(1923-2001), was a Hungarian sculptor who was Hanna Dallos' pupil. His work was markedly influenced by Hanna whom he described as his master.

(2)

Vera Székely

, born Harsányi (1919-1994), was a Hungarian artist. She started as a swimmer and was trained by Gitta Mallasz until she took part in the 1936 Berlin Olympics. She then became Hanna's student. It was through her that Pierre Székely - who was to be her husband – met Hanna and joined her workshop. Throughout the Budaliget talks, they lived in Hanna's parents' apartment in Budapest and were the first readers of what was to become "

Talking with Angels

". They settled in France after the war.

(3)

The memorial

was erected in 1950 by the Municipality of Augsburg. We have good reason to believe that it is indeed Lili Strausz who was buried or commemorated here despite the different spellings and the mistake about her age (Lili was 38 years old at the beginning of 1945).




Sources



(TA) Talking with Angels. Daimon, 2006
(PW) Eva Langley-Dános,

Prison on Wheels

, Daimon, 2000
(SB) Patrice Van Eersel, La source blanche. L'étonnante histoire des Dialogues avec l'Ange, Grasset, Paris, 1996 and Livre de poche



Translated by

Treharne Translations